Upgrade to MoodTracker Plus
Every day that you track your mood is another day of progress. We honor your courage to live a healthy life. The most valuable part of tracking your wellness is seeing the insight. MoodTracker Plus provides extra insight through powerful charting that helps you to see your patterns, the ups and downs in your moods, the correlations between medication, sleep, and exercise. With MoodTracker Plus you will be empowered with understanding how to live a more whole life. More powerful still, these charts are sharable with your support network, whether that be a partner/spouse, friend or therapist. Take the next step to make real positive change in your life and move up to MoodTracker Plus.
With MoodTracker Plus You Get:
Pie Charts
With Pie Charts you get a summary of your moods by percentage. This can be very helpful for evaluating your moods over time and getting a better feel for the effectiveness of your medications. You can see your pie charts summarized by month, quarter, or year. Each pie chart is also sub-categorized by medication history, and there are different pie charts for mood, sleep, anxiety, and irritability.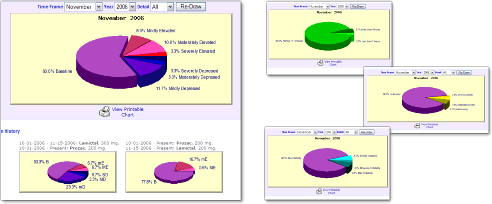 Exercise Tracking
You can easily set up any number of exercise records to create a customized exercise plan. Each record specifies the exercise, the date when you started it, and how frequently it's done.

Once your Exercise Plan is set up, you can enter a "Yes" or "No" response on your daily record that you have followed your exercise plan.

Significant Event Tracking
If a significant event occurs that greatly affects your mood, you can mark it on your chart. This is done by answering "Yes" or "No" to the
Significant Event
prompt in your daily record.

No Advertisements
When you login to your MoodTracker Plus account, ads will not be displayed on the site. If you see ads while browsing the forum, remember to login and the ads will not be displayed.